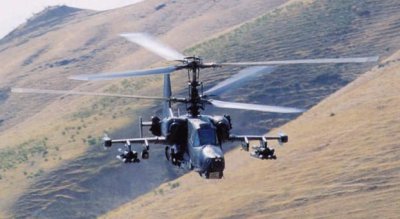 Ka-50 Hokum/Black Shark (Werewolf)
Attack helicopter, a single-seat helicopter with Kamov's familiar contra-rotating rotors. Existence of the Ka-50 was denied as late as 1990; but recently every attempt has made to sell it to foreign customers, under the nasty name of "Werewolf" (it's sounds like a NATO given nickname, not confirmed by Russian sources). "Black Shark" is a Russian military nickname. The Ka-50 is a good performer, but it is thought that the single-seat layout imposes a very high workload on the pilot. Two 1660kW Isotov TV3-117VK. (first one: t/n 018)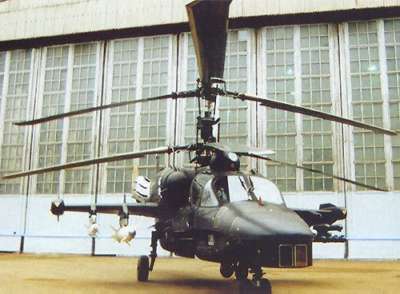 Ka-52 Alligator
modification for Ka-50 with nose redesigned for crew of 2, sitting side-by-side; Found at Russian Aviation Page as a mockup seen at Moscow Aviation and Kosmic Show 1995.
"Intellectual support" helicopter destined to lead the Ka-50.
Main rotor diameter 14.50m. Length 15.90m (with rotor). Max take-off mass 11400kg. Max horizontal speed 310km/h. Max side sliding speed 80km/h. Max backward speed 90km/h. Static seiling 3600m. Max vertical speed 8m/s (at 2500m). Practical range 530km (without extra tanks). Max flight time 3.0-3.5 hours (with extra tanks). Max expluatation overload 3.0. Optics locator «Samshit». Tompson's termovision station (France). Telescopic/laser collimated tracking system (up to 15km). Top-mounted «Arbalet» radar. Four color multifunction LCD displays. Front window pilot's display. Helmet mounted seeker/tracker for operator. Doubled flight controls (can be used as a trainer). K-37 ejectable seats. Stealth technology. Two Klimov TV3-117VMA 2200hp with VR-80 reductor (more powerful engines can be used with the same reductor, 2500hp engines are planned with short "emergency mode" of 2800hp). 30mm gun 2A42 (as for BMP-2, BMP-3, BMD-2, BMD-3, "Pantsyr") with selective round feeds. Four undercarriages. Up to 12 supersonic anti-tank missiles "Vikhr-M" with laser guidance and tandem warhead. X-25ML AA-missiles (up to 15km) with laser semi-active guidance. 2-4 R-73 or 8-16 "Igla-V" AA-missiles.

Ka-50 Photo Album
Independant Military Review No 28, 1997
01-Jul-1997 the first official flight of Ka-52
The Ka-52 «Alligator» was piloted by the test-pilot Alexander Smirnov and test-engineer Dmitry Titov. Ka-52 has 80% unified modules from Ka-50 «Black Shark». Max weight of 10.4t; two TVZ-117VMA turbojets of 2200hp each; max alt of 3600m; max speed of 300km/h; max range of 520km; termovision. Main goals: recco, target distributing, close combat support. 2t of combat load consists of 12 supersonic anti-tank missiles, 80 uncontrolled rockets, bombs, 23mm or 30mm guns, 2 AA missiles "Igla". Ejectable seats. Ka-52 (two seats) can be used as a trainer for Ka-50. The cockpit armor endure hits of 23mm bullets. All weather operation. Chief designer Sergey Mikheev.

Links:
Ka-50 and Ka-52 ARE UNRIVALLED IN COMBAT
Ka-50 Story: The Past, The Present and The Future
General Design, Equipment and Armament.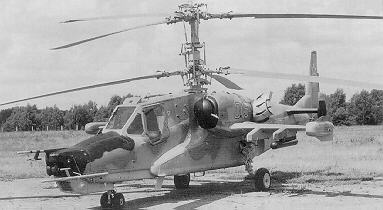 Ka -50 Kamov Hokum Werewolf Album Pics